WordPress is an awesome Open-Source blogging and Content Management System.  It has a huge community of dedicated & talented people all over the world who contribute not just to the software itself, but also in creating thousands upon thousands of Plugins and Themes. Not only that, there's an abundance of information out there in the form or blog posts, tutorials and websites dedicated to all things WordPress.
Whenever I need to develop a site that has a blog or even one that just needs a CMS, I choose to use WordPress. WordPress is a theme based system. This means that when it comes to changing the look of your WordPress website, there's no need to start from scratch, you simply install and activate a new theme. All your content remains so there's no need to re-enter any of it.
I can design and develop a custom WordPress theme just for business. Once your site is up and running, there's no need to use a developer when you want to update your content, you can manage it quickly and easily yourself, using the WordPress Dashboard. You'll be able to easily add new content or update existing content. Not only that, it's extremely easy to upload and display any images you have or even create links to documents such as Word Docs or PDF's.
If your budget is running a little tight, there are thousands of free Themes available to download or for a small fee, you can purchase one of the many "premium" themes that are available. These can then be customised with your own logo and business colours, to make them a little more personal.
If you have an existing WordPress site that's in need of some love and attention, I can also customise it for you if there's any special additions you need. Alternatively, if you have an existing static website that you still love, I can convert it into a complete WordPress driven theme, so that you can then manage the content yourself without the need for a website developer.
Once your site's up and running, you wont have to worry about how you're going to update it. With the WordPress dashboard, it's super easy! Not only that, I've written a complete user guide that shows you exactly how you go about it. I call it Easy WP Guide, and like the name says, it's real easy to follow!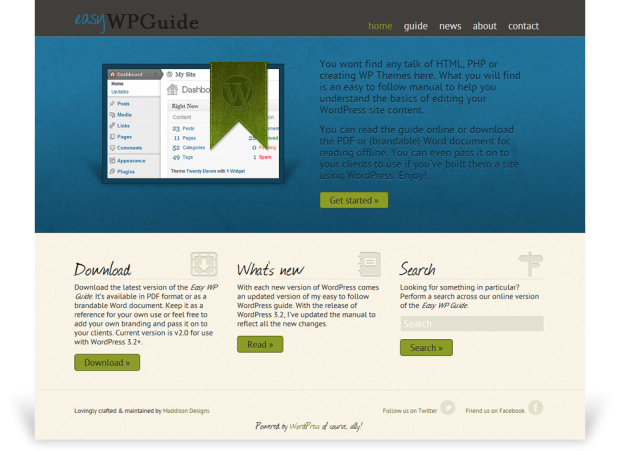 As well a designing and developing the Easy WP Guide site myself, I also wrote the guide, so you see I know a thing or two about WordPress. The Easy WP Guide is an easy to follow manual to help you understand the basics of editing your WordPress site content. You won't find any mumbo jumbo about creating themes or setting up your site. What you will find are simple, clear instructions on how to update your content, add new content, upload images and attachments and everything else that you'll need to keep your site content up to date. You can download the guide in PDF format, as a brandable Word document or in ePub or Mobipocket eBook format. Alternatively, you can read the guide online.
Get in touch if you'd like me to design & develop a WordPress site for you!